What's New
2020/3/9
Genon introduces Hot Streak and Off the Grid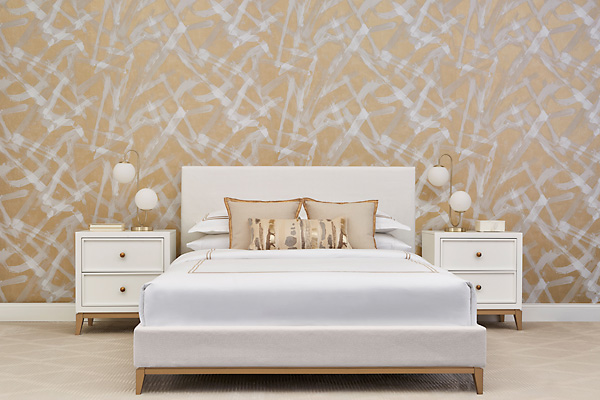 HOT STREAK
Channel your Inner Artist with Genon's Hot Streak. Free-hand brushstrokes, inspired by modern art of the 80's, frames this large-scale, abstract design, featuring 7 retro hues.
View swatches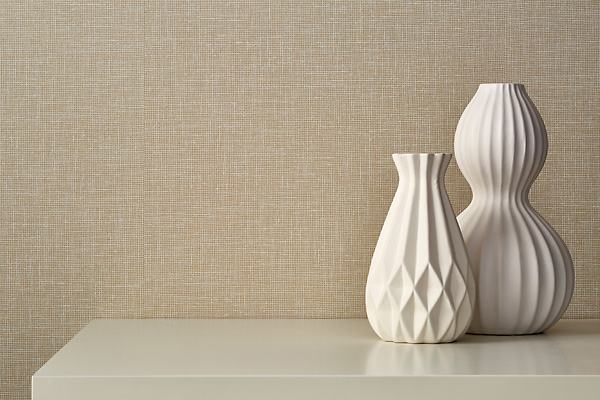 OFF THE GRID
Stay connected to the symmetrical open weave, Off the Grid. Find solace with 24 colors, including Caicos Beach, Blue Galaxy and Sparkling Moon.
View swatches
2019/12/4
Genon introduces Merino Recolor, Merino Magic and Facets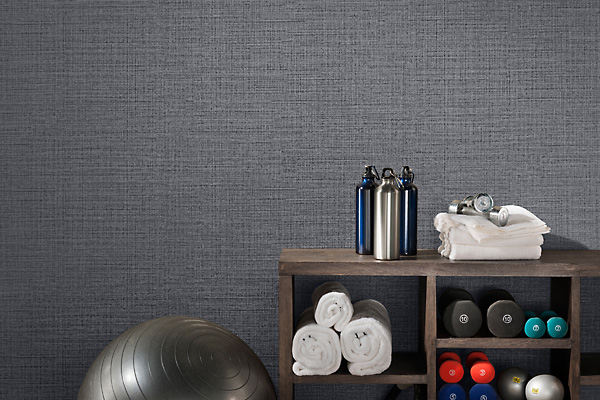 MERINO RECOLOR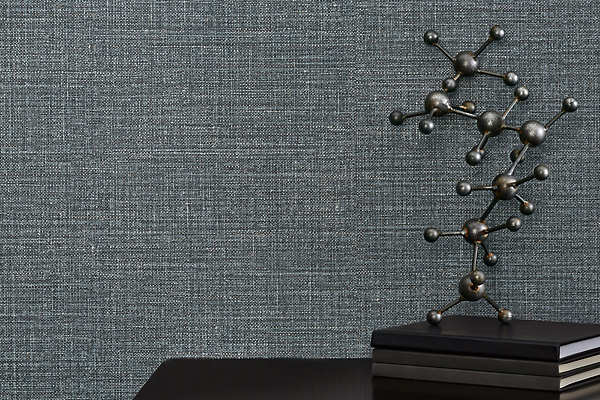 MERINO GAGIC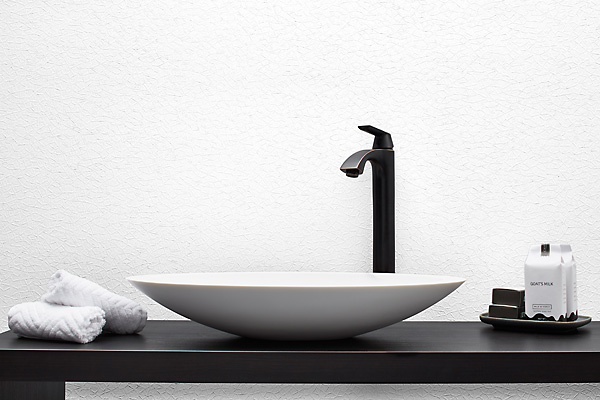 FACETS
2019/8/30
Genon introduces Scribble, Scribble Sticks and Scribble-less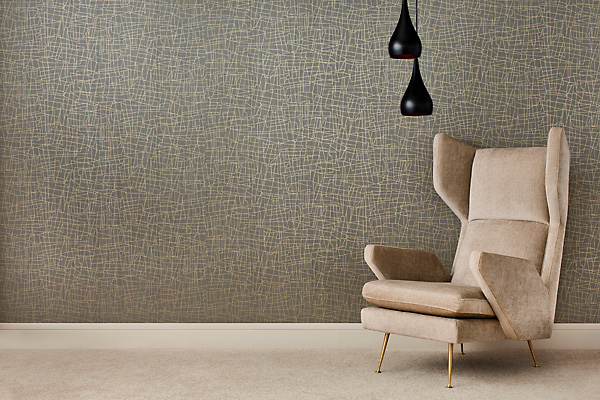 SCRIBBLE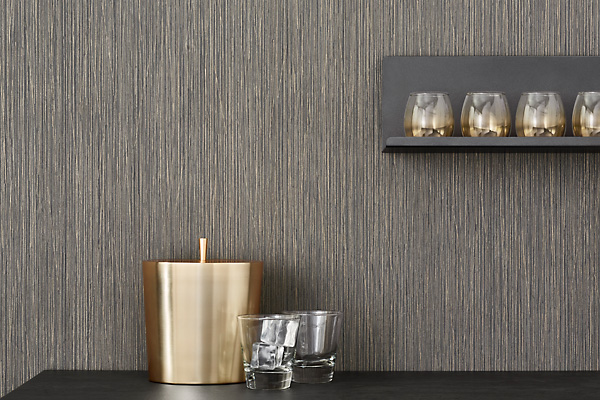 SCRIBBLE STICKS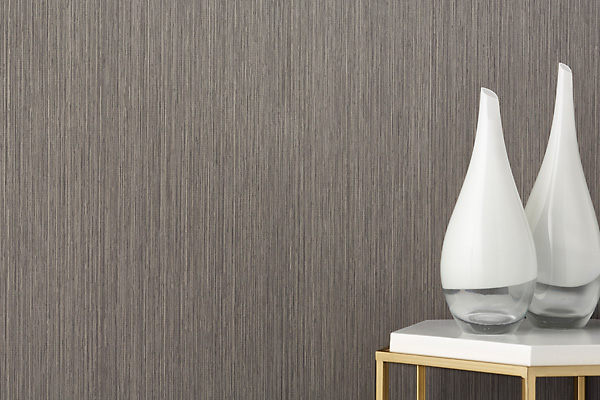 SCRIBBLE-LESS
2019/2/28
Genon Introduces A Cord to Adore and Panoramic Ombre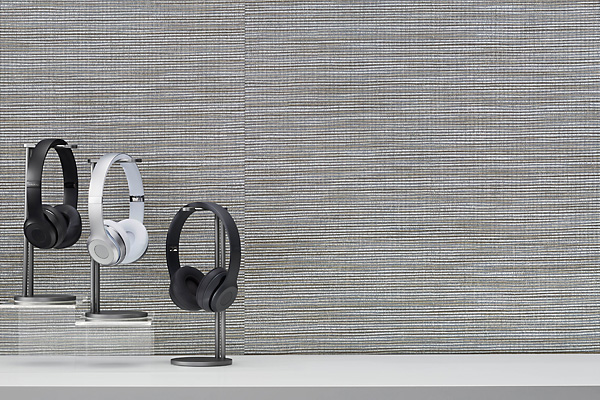 A CORD TO ADORE
A Cord to Adore is a retro cool cord with a glimmer of accents and contrasting color. Clean and bi-directional, it features a horizontal design with vertical dimension, great for hiding imperfections in the wall. Resembling corduroy, it's a play on 'Grandpa Chic' with 13 contemporary neutral colors.
View swatches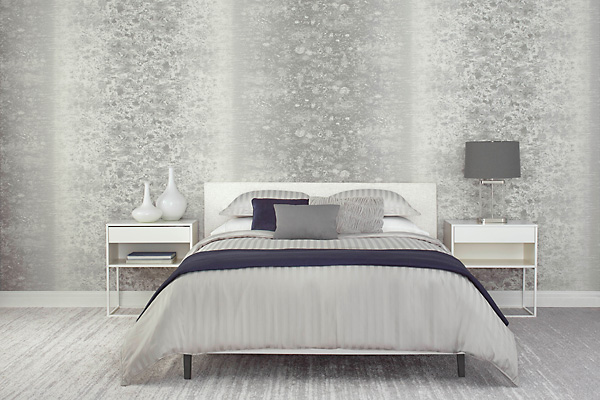 PANORAMIC OMBRE
The Flora revolution is subtly seen in the expansive, wide-width design, Panoramic Ombre. In this modern interpretation of tapestry, color variation blends from one hue to the next creating ombric vertical stripes. Gradient colors abound in the 6 hues.
View swatches
2018/11/26
Contemporary texture and patterns are unveiled in Genon's Step Up, Plaidish and Flair.
PLAIDISH
Plaidish takes a novel menswear pattern in a new direction. Artist strokes, painterly splashes and modern color options transform this design. Notice the many moods of Plaidish in the 7 monochromatic and contrasting colors. Notes of Vanilla, Smoky Luster and Midnight Run.
View swatches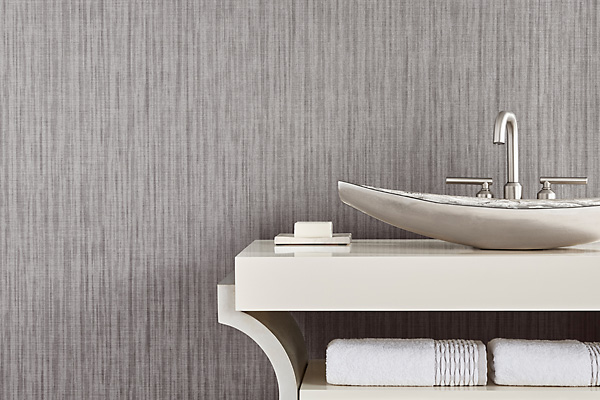 FLAIR
Wrap your walls in luxury with the vertical silk essence of Flair. The organic layered qualities are visible at a distance. Variation of color is apparent in the 18 elegant hues of Moondust, Charcoal Glitz and Blossom, to name a few.
View swatches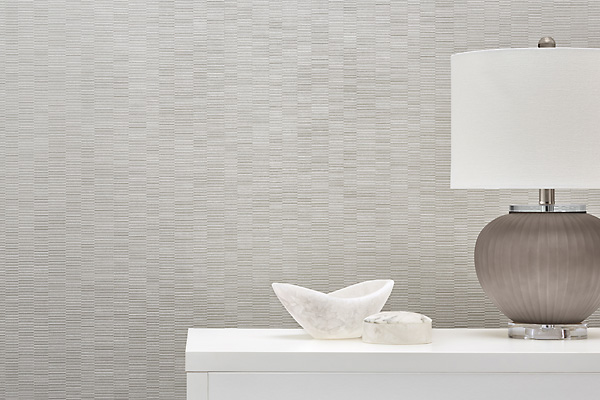 STEP UP
Contemporary and sleek… Step Up has it all! Linear, stacked blocks are revealed from the shadows and highlights of the deep emboss. These visual nuances create levels and movement in Frosted, Night Blue and Glimmering Grey, just some of the 18 colorways.
View swatches
2018/8/15
Be one with nature with Shadow Leaves, Shadow Silk and Mineral.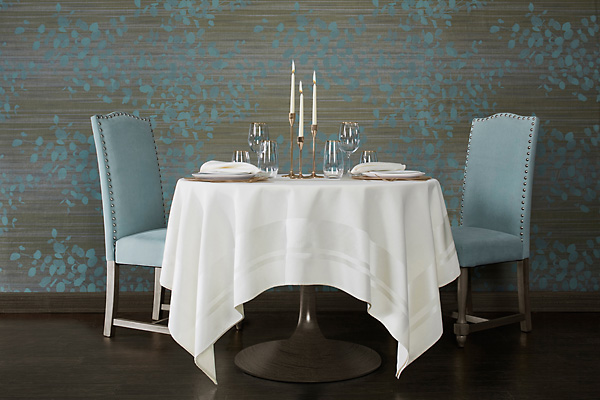 SHADOW LEAVES
Step in to nature with Genon's Shadow Leaves. This large-scale, meandering, almost translucent, leaf print rests atop its coordinate, Shadow Silk. Make a memorable organic statement in public areas, feature walls, and more. Summer Rain, Snow Beauty and Black Pearl are some of the 10 colors shared with the contrasting silk.
View swatches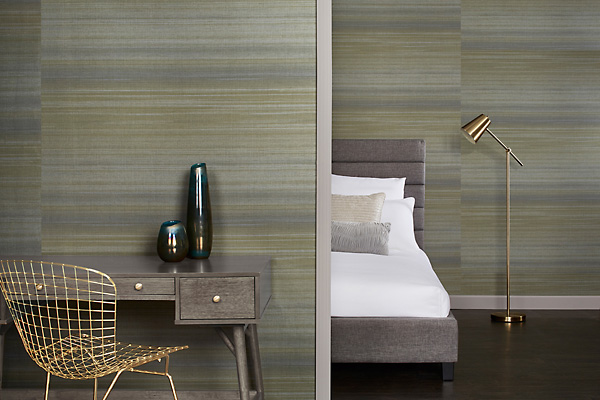 SHADOW SILK
Accenting horizontal colors craft a decorative, yet refined, woven look in Genon's Shadow Silk. These organic banded hues, across 25 colorways, create a dramatic silk and coordinate with Shadow Leaves.
View swatches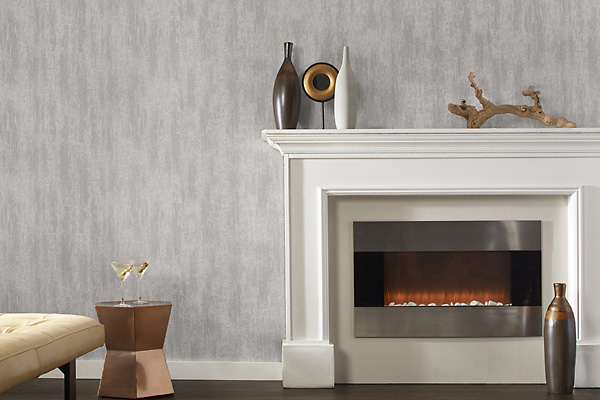 MINERAL
Inspired by nature's rock formations, Genon's Mineral showcases the mined qualities of textured stone, with 18 hues that range from plaster-like to jewel tone combinations.
View swatches
2018/1/10
Make a statement with Geneon's Epic Lines, Epic and Latitude.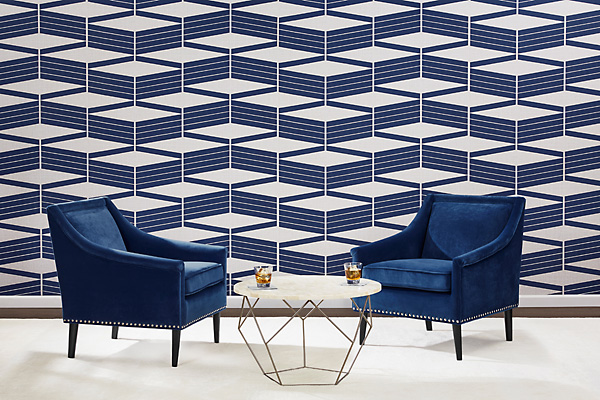 EPIC LINES
Art Deco and iconic architecture inspired the bold graphics in Epic Lines. The strong rectangular blocks, in the large-scale design, have dimensional effects that resemble stacked squares, military stripes or diagonal fencing. 13 modern colors pair with Epic.
View swatches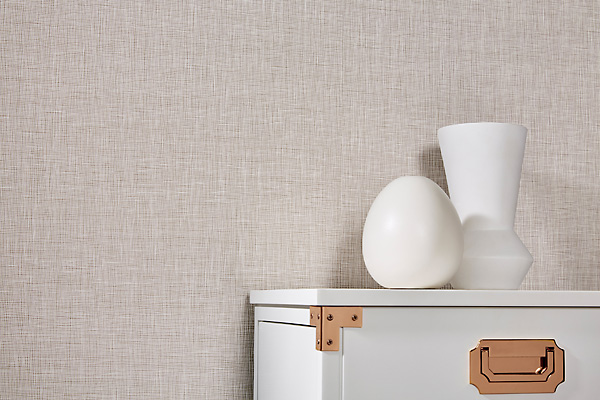 EPIC
Epic features a gauze-like, grid pattern with a vertical weave emboss. The contemporary palette showcases 25 hues and coordinates with the graphic Epic Lines.
View swatches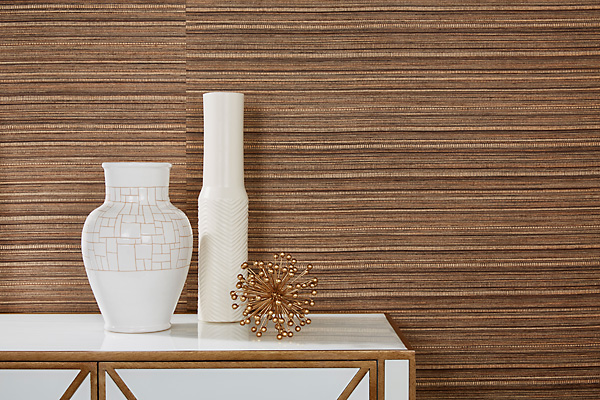 LATITUDE
Capture the essence of textural bamboo and grasscloth within the horizontal dimensions of Latitude. The 18 natural and rich colors include Amber Axis, Blue Horizon and Sea Level.
View swatches
2017/11/03
Statement pattern and textures are revealed in Genon's Chameleon Stripe and Twisted Twill.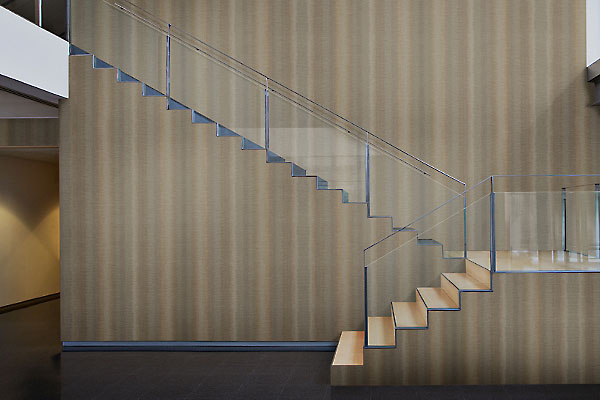 CHAMELEON STRIPE
Chameleon Stripe features varying color throughout the large-scale full-width vertical stripes. Look closely and notice horizontal metallic interlocked across the ombre stripe effect. Infinite Grey, Midnight Hour and Forest Shadow are some of the 11 hues that companion with Luxe Linen.
View swatches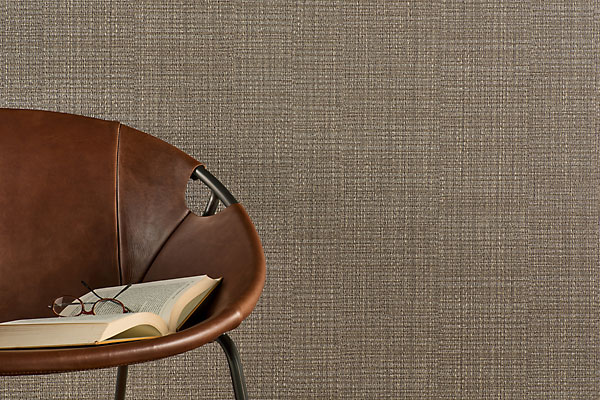 TWISTED TWILL
Wander in an upscale designer showroom and you may spot something similar to Twisted Twill. This fashion-forward Chanel-like texture mimics handspun fabric. Movement and dimension are easily noticed in the unexpected large-scale weave and can be seen in the 18 colors coming soon to runways near you.
View swatches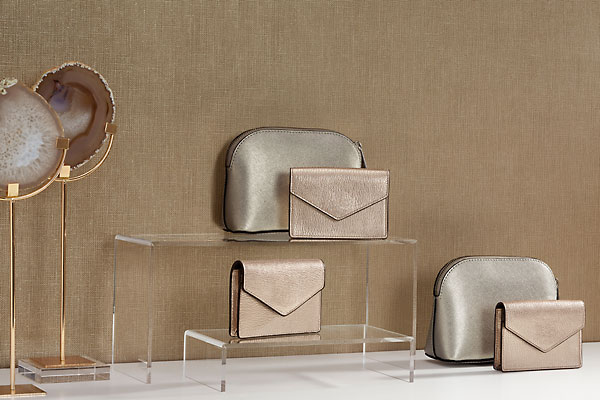 LUXE LINEN- ARTISTE
Genon premieres its first ARTISTE pattern, Luxe Linen.

ARTISTE is a new category of artisan-quality wallcovering. This innovative process reveals a hand-crafted look, with multi-tonal qualities. Exceeding Type II performance standards, ARTISTE exemplifies beauty and durability.
View swatches
2017/05/26
Explore the world with Gypsy, Galaxy and Glint by Genon Wallcovering.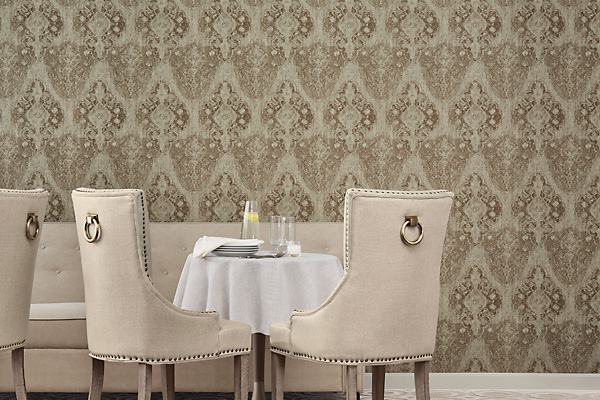 GYPSY
A modern interpretation of a classic design is revealed in Gypsy. Perfect for an edgy, fashion-inspired, statement wall, this large-scale pattern exposes distressed texture topped with a contemporary layered motif. Wild Flower, Moroccan Night and Sunlit Copper are a few of the 10 earthy colors that are shared with its companion, Glint.
View swatches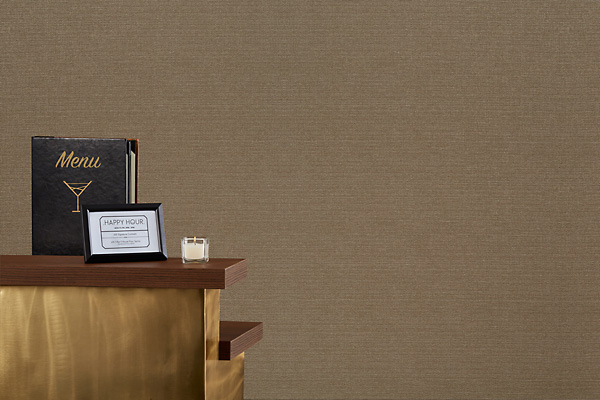 GLINT
Grounding its companion, Gypsy, Glint, is a small textural woven, revealing a touch of shimmer when captured by light. The hand-spun texture has a deep emboss and loomed menswear essence. Rendez-blue, Mystic Black and Marrakesh Sand round out the 24 hues.
View swatches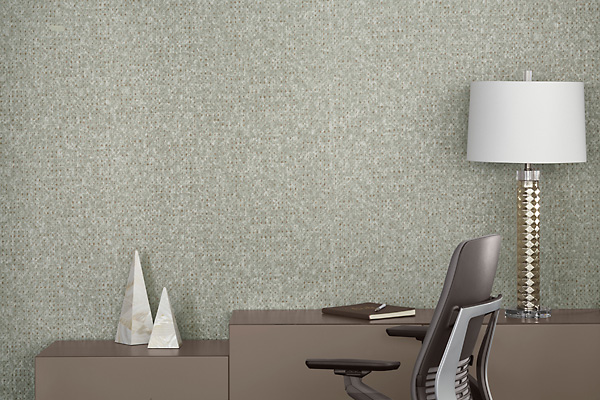 GALAXY
Galaxy features spheres floating atop a luminescent shimmer texture. Whether you see stars peeking through a mystic sky or luxurious ostrich leather, Galaxy is sure to captivate. Neutrals mix with deep classics in this 24 SKU contemporary palette.
View swatches
2016/10/24
Industrial Chic converges with natural resources in Concrete Chisel, Concrete and Crushed from Genon.
CONCRETE CHISEL
See the dimension of bold sculpted blocks in Concrete Chisel. Random carved angles mimic cut crystal formations and a bird's eye view of building rooftops. This futuristic large-scale design's seven colors jump off the wall and pair with Concrete.
View swatches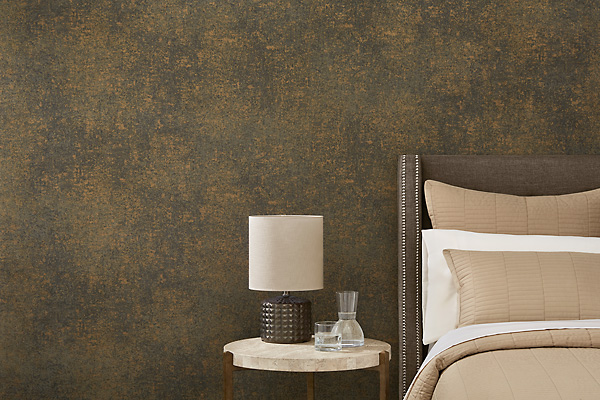 CONCRETE
Industrial in nature, Concrete fuses texture with color. An overall subtle pattern showcases particle-like elements united with metallic tones in this mid-scale design. Coordinating with Concrete Chisel, 12 multi-colored hues such as Black Mica, Grey Pyrite and Sand Stone received their influence from rocks and geodes.
View swatches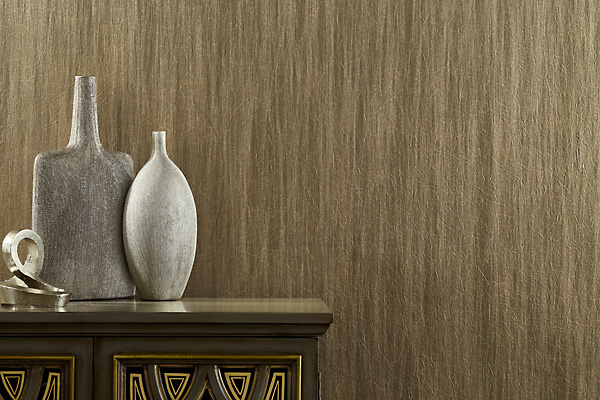 CRUSHED
Crushed is an elegant twist on raw beauty. Created through a special process, gorgeous reflective qualities and a crinkled voile-like pattern soften the crumbled stone texture. Vertical striations can be seen across the 24 luxurious hues.
View swatches
2016/07/19
Genon introduces Horizon, Horizon Line and Metal Grooves.
Nature's elements converge in Horizon, Horizon Line and Metal Grooves.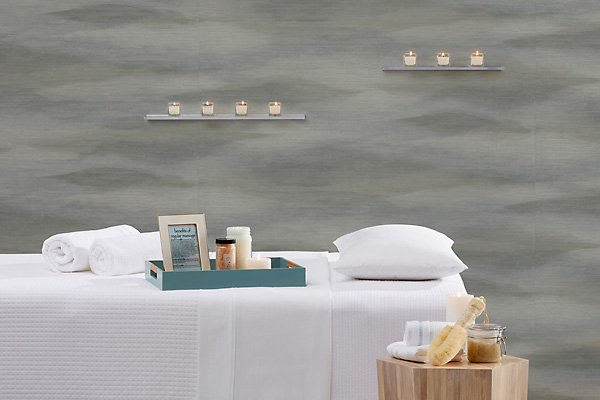 HORIZON
Floating clouds, moody skies and adobe formations inspired Horizon. Atmospheric influences are created by the watercolor wash effects. Tranquil colors of Dusky Sunset, Clear Skies and Lush Vista sooth the senses and complement Horizon Line.
View swatches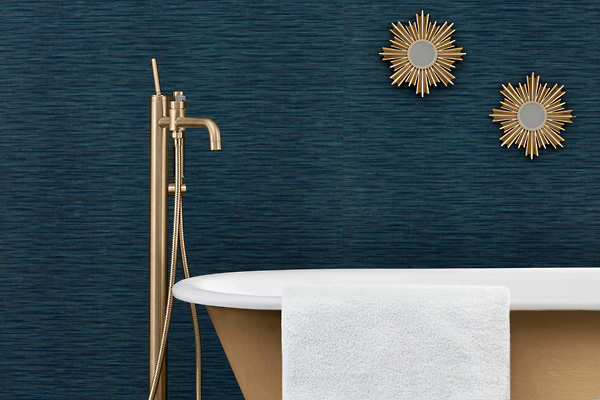 HORIZON LINE
Horizon Line—where the sea and sky meet. Ethereal horizontal lines touched with metallic give the illusion of a beautiful sunset or a calm ocean. Twenty-four mystic neutrals and captivating hues such as Teal Tide, Evening Glow and Twilight Plum, combine perfectly with Horizon.
View swatches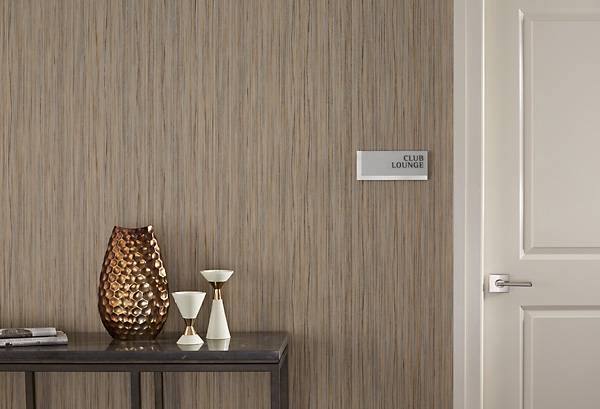 METAL GROOVES
Rich monochromatic striations form an aged patina look with a contemporary edge in Metal Grooves. A corrugated metal influence can be seen in the deep vertical emboss. A statement on its own or a complement to a larger scale pattern, 18 rustic tones such as Galvanized Grey, Aluminum Roof and Tin Truss, add to its versatility.
View swatches
2015/11/23
Genon's new series—Uptown Funk, Uptown, Big City Silk and Urban Vibe—embraces the hustle and bustle of the city.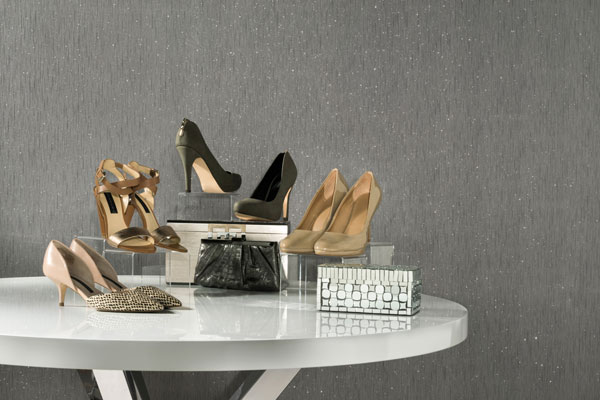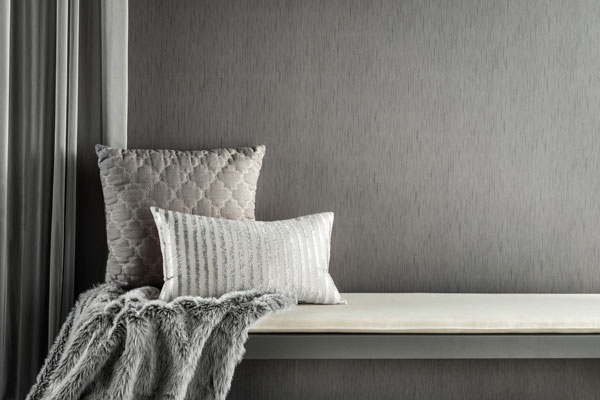 Uptown Funk/ Uptown
Uptown Funk provides a star-lit skyline for your night on the town. Proprietary ink techniques create a glamourous shimmer as light dances off the surface of Uptown's favorite, 48" wide coordinate. The dramatic glitter effect kisses seven colors including Nightlife, City and Latte.

On the corner of sophistication and style is Uptown. A super-matte design combined with a fine vertical emboss highlights its elegant minimalism. The tip card, coupled with Uptown Funk, its escort for the night, includes 18 mid-century neutrals, seven with a touch of shimmer.

Uptown Funk and Uptown, perfect together!
View swatches for Uptown Funk or Uptown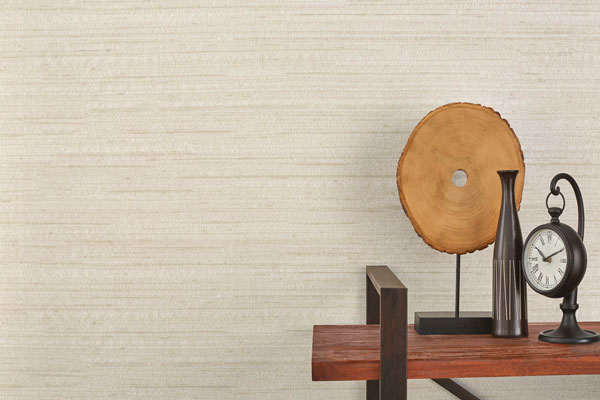 Big City Silk
Everything is bigger and better in the city including this Big City Silk. Delicate silk fibers are magnified, uncovering texture that resembles the gradations of a concrete sidewalk. Hit the streets with 24 shades, including warm and cool neutrals for every avenue.
View swatches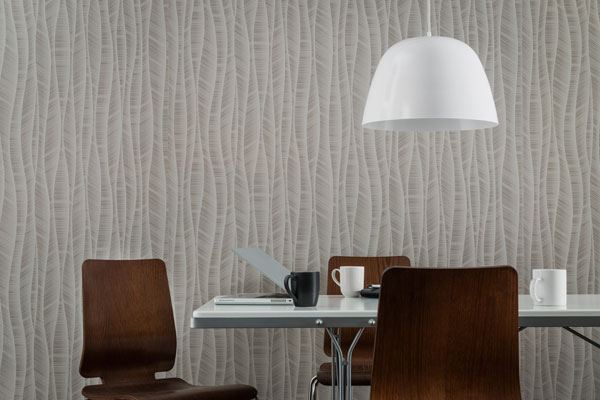 Urban Vibe
Be the first to catch the edgy, large-scale Urban Vibe. Its variations mimic the brushed metal and blurred movement of subway cars in motion. The fast-paced neutrals include Subway Grey, City Nights and Golden Skyline.
View swatches
2015/04/07
Genon reveals Molten and Mulberry.
Molten and Mulberry, Genon's new introductions, showcase the process of transformation and a sophisticated opulence.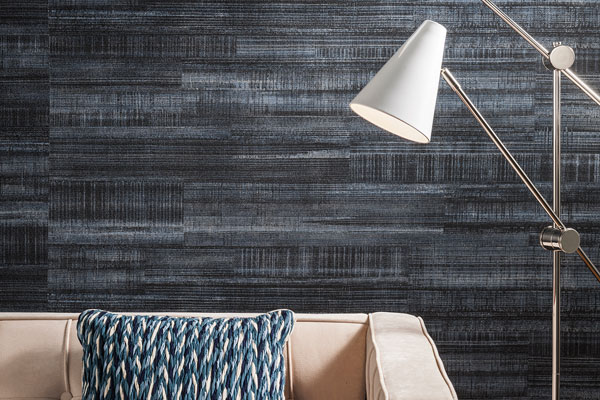 Molten
Edgy and provocative, Molten morphs the hard edges of industrial style, blurred lines and layered color. Inspired by the fusion of old and new, worn corrugated metal becomes trend forward in architecture and fashion. A truly organic art form is found in the process.
View swatches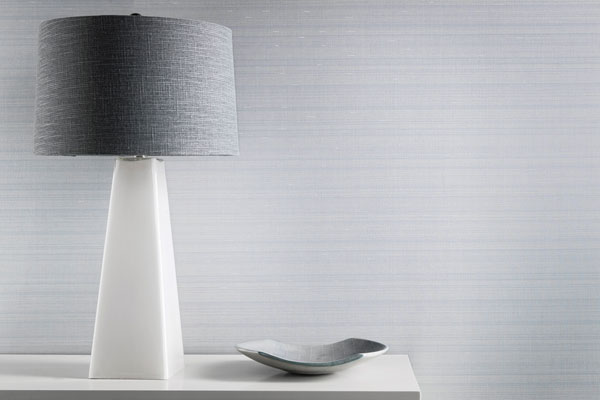 Mulberry
The elegance of a true silk comes to life in Mulberry. This graceful pattern's fine brushstrokes and subtle variations create a gentle color shift. Complete with the soft sheen of a true satin, the organic inconsistencies illuminate the qualities of spun fibers.
View swatches
Come find the unexpected!
2014/12/01
Nine new patterns have been added to the Genon Reconnect collection.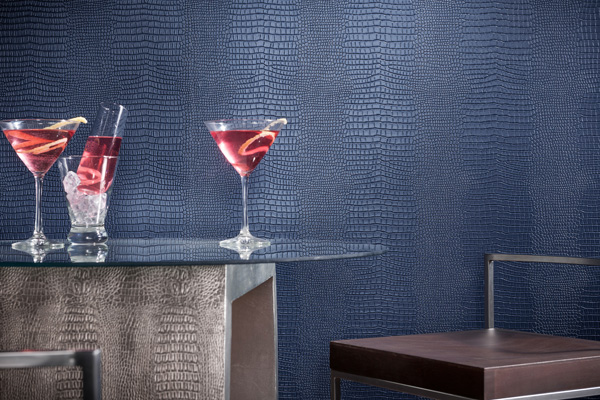 The exotic Nile Croc
A classic animal skin made sleek, by gilding it with specialty inks to mimic patent leather.
View swatches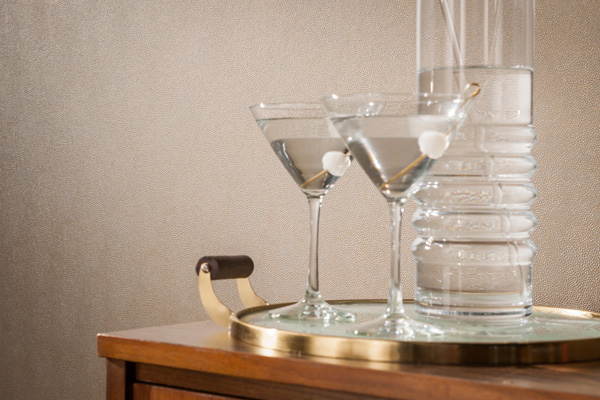 The glamorous Ray Skin
A texture from these beauties found in tropical oceans, kissed with the metallic accents found on fashion runways.
View swatches
Veil—A contemporary large-scale Lace overlay.
Veil was conceived in traditional, hand-made stitch techniques, layered on a patterned ground.
View swatches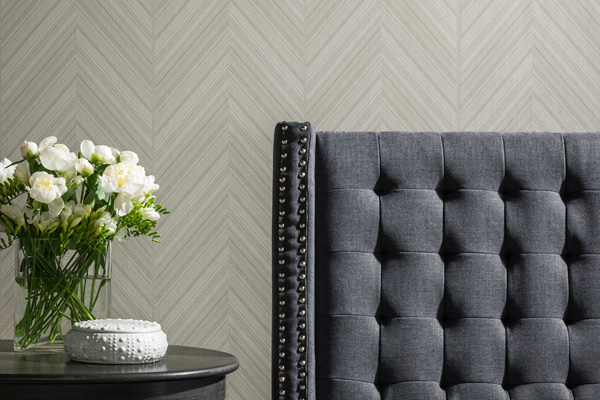 Zig Zag—Our striking herringbone
This Art Deco-inspired, tonal geometric connects yesterday's classic with tomorrow's scale.
View swatches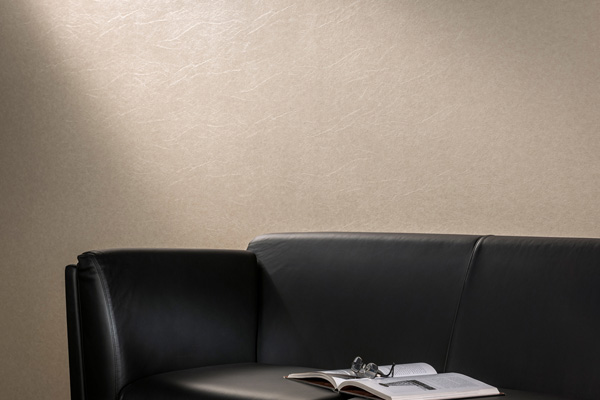 Saffian Leather
Inspired by the Italian leather craftsmanship of accessories
View swatches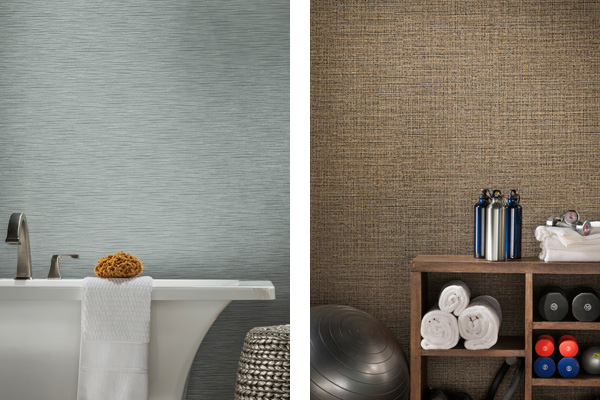 Veranda and Merino
Layered, rich fabric looks in indulgent color ranges
View Veranda swatches
View Merino swatches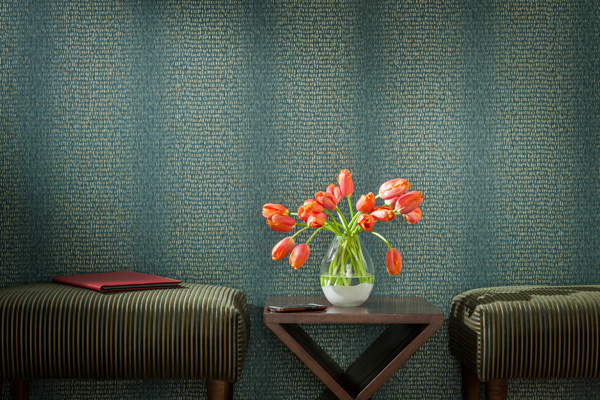 Reveal is completely unexpected… see for yourself.
View swatches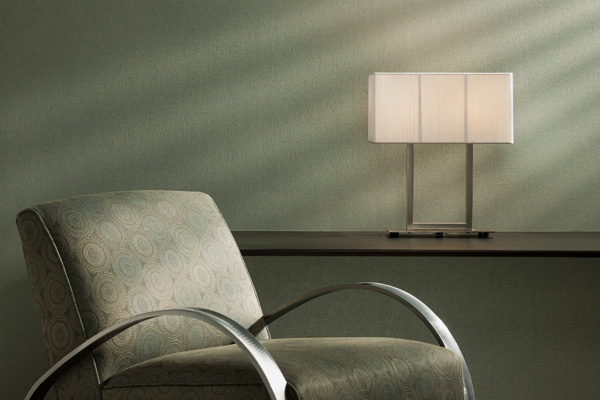 Metalique—As the name implies, glints of metallic touch this woven classic.
View swatches